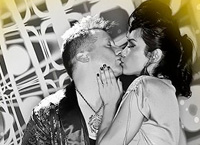 Congratulations to Tre Cool and Dena on their engagement! Click the picture for a bigger view.
Rumors were swirling all weekend about Tre's engagement during the last American Idiot Musical show. Tre officially confirmed it today on his
Facebook
.
So, Green Day fans, join me and the rest of the GDA staff in wishing Tre and Dena a long and happy life together!!