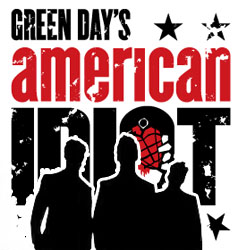 "This is not a party, it's a celebration," Billie Joe yelled to a theater filled with Green Day and Broadway fans on Sunday April 24, 2011. Easter Sunday no less. The American Idiot musical had been running at the St. James theater in New York City for just over a year. At it's start there was skepticism about whether a punk rock musical had staying power - and amongst fans, skepticism about how Green Day's music could be turned into a stage production without becoming a giant cheese ball.
Walking around the St. James on closing night only highlighted the clash of cultures. Punk kids with pink, purple and bleached hair wearing an array of pins or clothes you could swear they'd been wearing the previous 5 days and every Green Day shirt out there - and celebrities, theater "folk", and people dressed nice enough to visit with the President of the United States (sorry other presidents, only ours gets the attention of the fashion savvy). I can't think of many bands right now who could possibly weave these two cultures together and create something each could equally enjoy.
This was my first time seeing Billie Joe play the part of St. Jimmy, the maniacal bad side in all of us wanting to get out and burn the world around him. I had seen the musical a year before, opening night, with the original cast which included Tony Vincent playing "St. Jimmy", John Gallagher Jr. as "Johnny", Michael Esper as"Will" and Stark Sands as "Tunny". The story revolves around three friends who plan to leave their hometown, but when the other two get sidetracked by life, Johnny ends up alone in the city with only his demons to entertain. St.Jimmy comes in, showing him the fun fast life of drugs and alcohol then proceeds to watch Johnny destroy himself.
I think it's a solid interpretation of the music. There are added or adapted story lines, but all were done in a way that complimented what was already going on with the story Green Day created in American Idiot.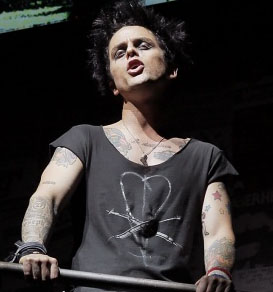 Billie Joe's performance as St. Jimmy is much more devious than Tony Vincent's portrayal. I don't believe one is better than the other, both interpretations have a place in the story. Where Tony's character was darker and borderline evil, Billie's has a playful apathy. One seems to be intent in destroying this man, the other just wants to have fun and really doesn't give a shit what happens.
As Billie makes his way on the stage during "St. Jimmy", he holds one nostril and blows his nose at the front of the stage (think Michael Keaton's Beetlejuice from the late 80's). Gross, but refreshing. Wait, poor word choice. I mean, you see Billie Joe acting like someone who couldn't give two fucks (probably not even one, but I don't understand that saying anyway) - and that's just a fun thing to see.
Throughout the musical he seems playful with Johnny (who was being played by the very talented Van Hughes for the final months of the show), teasing him with drugs, kissing him, nibbling on his ear, playfully dry humping then pulling his hair - then they get naked and fuck each other. Ok the last part is a lie, I just felt like that's where it was going (maybe just in my mind).
Seeing Billie Joe (someone we've all admired for years for his stage presence during Green Day shows) become that character is a special treat all it's own. I think I like the idea because even though the American Idiot (album) story is based around Jesus of Suburbia and St.Jimmy, we know those characters are both a part of Billie Joe. So when he plays St. Jimmy, you get to see a part of him that is usually reserved. Maybe the only other time we really get to see that side is when The Rev goes onstage for a Foxboro Hot Tubs show.
Billie's presence in the show brings something special, but the brilliance of the characters in this show are highlighted by just how strong the rest of the cast is alongside a rock star as big as Billie Joe. From the other lead characters to the ensemble cast, it's amazing how much devotion these individuals have given to this production. I've now seen it a total of 3 times and each time I've noticed something new. The minutiae of daily life is so well developed and represented with the rest of the cast that it's easy to miss if you're not paying attention.
Billie's character went for laughs, and it does add a special feel to the show. Though for me it's hard to gauge how much of that is the character, or simply because Billie Joe is the one doing it. One scene St. Jimmy and Johnny draw a heart on their chests with lipstick or a marker (I thought it was lipstick, but Billie Joe's was running down his chest after over-using it) and after Johnny stops when the heart is complete, Billie continued drawing all over his stomach and chest like a child who couldn't quite keep his coloring in the lines making the audience crack up.
The musical is incredible, and though I can understand how some people simply don't have a taste for musicals or theater, I really think for the fans who are even only marginally interested, this production satisfied. With and without Billie Joe, the cast is amazing. The story itself brings a dimension to the story that I think Green Day fans (especially fans of American Idiot) can appreciate and enjoy. You can tell this production was in the hands of people who appreciate Green Day's ability to create music.
Before the show started we (me, Tony, Val (BeachBum on the forum) and J'net) went and made 100 copies of signs that said "It was worth all the while," which we handed out to people all across the orchestra section. At the end of the show when the curtains rose for the cast to sing their final encore of 'Good Riddance', we all held the signs up at the same time. You could tell throughout the show that some of the cast were emotional, and by the end some people in both the cast and audience cried knowing it was the final performance.
After the encore the cast came out joined by Billie Joe, Mike, Tre, Michael Mayer and two producers for the show. One of the producers mentioned the musical would go on an international tour starting later this year. After some kind words to the cast and crew, Michael Mayer praised Billie Joe for being "a fucking poet" and thanked him for being passionate and genuine with his work. One of the producers said Billie "enjoyed celebrating" and later was handed a bottle of Jack Daniels. Shortly after that Michael Mayer introduced Green Day, and the band came out to play some music.
Setlist:
Only Of You
Murder City
Holiday
Burnout
Letterbomb
Welcome To Paradise
Longview
Spiderman (Cartoon Theme Tune)
Walking Out On Love (Exploding Hearts cover)
Jesus Of Suburbia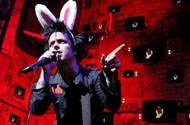 Before they started playing, Billie lightened the mood with a joke - A pedophile and a child walk into a forest. The kid says "It's scary here", to which the pedophile replies "How do you think I feel, I have to walk back alone." The audience at the St. James laughed, with only a few almost offended "oooo's". He also said he was feeling a bit "potty mouth" after cussing about something then the band played a bit of the Spiderman theme song before stopping and Billie Joe looking around the stage to make sure no one had fallen (referencing the accident at the Spiderman musical also on Broadway), then said "Sorry, everything tonight will be in poor taste." Between some songs Billie Joe gave a speech saying that in 2004, when American Idiot was released, we were in 1 war with one of the worst presidents in our history, and now, in 2011, we have "3 wars, and an intelligent man in office, but he's still fucking everything up."
Green Day was on top of their game (as always) during their performance. The cast was with them on stage dancing in the background as Green Day's music roared through the St. James speaker system at a volume I was surprised to hear it achieve. The crowd was dancing, jumping and singing along. Billie Joe kept doing stuff on stage - like a German accent (which was more Russian than German) - while Mike and Tre laughed along at him. The whole thing was incredible to experience, but even better for me to be able to experience it with some of my closest friends who work on this site. A special weekend to top off an incredible year for Green Day, the musical cast and crew, and fans. The show went out with a bang, and Billie Joe was right, it was definitely a celebration.
Now we get to see this transform into a worldwide tour and a movie. I think it's a pretty damn good time to be a Green Day fan.
Note: I wrote this on the plane ride back to New Mexico from New York after only 2 hours of sleep. My apologies for any errors.
More photos from the musical