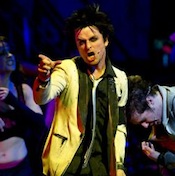 Last night Broadway.com held a ceremony to announce the winners of their
2011 Audience Choice awards
in New York City. Billie Joe won the "Favorite Replacement" award where he was nominated for his run as St. Jimmy in the American Idiot musical.
Billie Joe played the role from January - February in 2011, as well as the final 3 weeks of the show in April till it's closing April 24th.
This is the third award won by the musical in the Audience Choice Awards. In 2010 the show won two awards, one for "Favorite Leading Actor in a Musical", which went to John Gallagher Jr., and "Favorite Ensemble".
To view the list of winners from last night
visit this page
.
Thanks to @CharlotteDreams and @shesarebel for posting the news