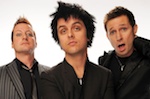 All this week, Gibson.com is counting down the top 50 American bands on their website. They posted
bands 41-50
today and Green Day has come in at number 50. Other bands of note in the 41-50 range include The Strokes, Alice Cooper, Cheap Trick, and Kings of Leon.
Excluding my bias towards the band, the number 50 spot seems kind of high. I've never heard of Yo La Tengo, The Lovin' Spoonful, or NRBQ. Could be because I'm young but if they're one of the top 50 American bands, I'd think I would have heard of them.
Today's list can be viewed
here
and Gibson will continue to roll out their list as the week goes on, with the number one spot being unveiled Friday. It should be interesting to see who they have as the "best" American band.