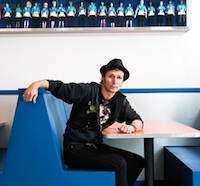 Diablo Magazine
has a short Q&A
with Mike Dirnt about his involvement with "Rudy's Can't Fail Cafe." The magazine picked the resturant as editors choice and one of the "Best of the East Bay".
Here's Mike's reply when asked why he decided to get involved with the restaurant:
"One of the reasons was I couldn't go anywhere with my six-year-old without waiting 45 minutes to get her a friggin' waffle. It was ridiculous. I'd also cooked in high school at a place called the Nantucket in Crockett, so when [founding Rudy's partner Jeffrey Bischoff] was thinking about starting Rudy's, I was the first person he called. "
And my favorite line...
"Sometimes you need coffee, and sometimes you need a Bloody Mary."
Check out the full Q&A on
Diablo's website
.
You can find more info about the resturants on their site,
I Am Rudy.com
.
Thanks to desertrose for posting this on our forum.