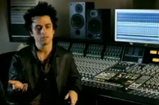 Back in March the UK television network, Sky, did a special documentary on photographer Bob Gruen. Bob is known internationally for his work with punk and rock stars such as The Who, John Lennon, Led Zeppelin, KISS, along with many others. Since 2002 Bob Gruen has been taking pictures for Green Day whenever they have been in the New York City area.
In the documentary Billie Joe along with other of Gruen's clients are interviewed in the documentary talking about Bob's work. You can watch the full documentary below.
Part 2
If you do not want to watch the video now, you can download the iPod and iTunes ready MP4 file by
clicking here
.
You can view some of the work Bob did with Green Day on their past tour on his website by
clicking here
.
Thanks to greenbear for ripping and providing the download for this file.