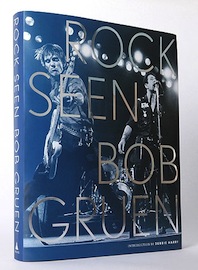 Rolling Stone
recently published a picture of a new book by
Bob Gruen
, called
Rock Seen
. The New York based photographer has taken pictures at many Green Day shows and events, as well as The Foxboro Hot Tubs. The book is described in Rolling Stone as...
"A special gallery of iconic images from the New York Dolls, The Clash, Led Zeppelin, Green Day and more.

...covering current stadium rockers such as Green Day, Gruen has always been at the right place at the right time--and he's always gotten the shot.

In Rock Seen, Gruen has curated his favorite photographs from his career and paired them with intimate captions and behind-the-scenes anecdotes."
You can read more from the article
here
Thanks to Alan86 for posting this on the forum
There is a video of Billie Joe talking about Bob Gruen, for a programme about the photographer that recently aired on the
Sky Arts
channel, in England. Gruen also talks about what it's like working with Green Day and other great bands throughout his career, it's well worth a watch.
Check back on Jimmy's
previous post
for links to watch and download the full programme.