Despite Billie Joe saying "to reminisce is to die" at the surprise show, we're gonna do some reminiscing for this new feature, where we take a look back at what Green Day were up to at this time in previous years.
On this week...
Last year: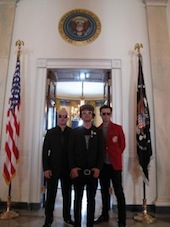 Green Day were in the middle of the 2nd leg of their North American 21st Century Breakdown tour. Fans were in for a treat as the band were in top form playing old rarities and inviting tons of fans on stage to join in the party, Foxboro Hot Tubs style.
2 years ago:
The trio visited The White House when they stopped off in Washington on the first leg of their US 21CB tour...
In 2004:
The band were gearing up for a big comeback with American Idiot and performed at the Reading/Leeds Festival, which marked a big turning point in the bands career. Green Day actually played a longer than expected set when they filled in for 50 Cent, who was forced off stage at Reading after a barrage of bottles from the unimpressed festival punters!
In 1998:
An early evening set after Iggy Pop in Chelmsford, Essex, was the setting for this Nimrod tour festival appearance. Check out this video where the mosh pit collapses as Green Day open with Nice Guys Finish Last...
(The video says that it is the Leeds performance from the V festival, but unless exactly the same happened there, I'm sure this was Chelmsford!)
I was 17 ("...and strung out on confusion!") at the time and had bought the Nimrod album that year. I was really starting to get in to music, and this album came at the perfect time for me. To this day, I would say that it's my favourite album. Mainly because of the time it came out in my life, but also because of its musical diversity. It was an album where Green Day really demonstrated their range of musical ability, and Billie Joe's brutally honest lyrics made it an album full of feeling that an impressionable teenager like myself could really cling on to.
Some time during our school summer term, my friend Tim had told me that Green Day would be performing at the festival. He already had tickets himself, but unfortunately the festival was now sold out. However, Tim had a look around and managed to find via a notice board on the internet, a spare day ticket that someone had to sell. We arranged to meet the person on the night before the festival, at a hotel in Essex. My Dad drove us down there, and I got my ticket to see Green Day for the first time.
It was at a time when Green Day's popularity was on the wane, as they struggled to maintain the mainstream success they received with their album 'Dookie.' Hence, they had a mid-afternoon slot of only 45 minutes or so. They took to the stage at around 4pm, after another surprisingly early set, from Iggy Pop. I remember the anticipation as we waited in the crowd. It seemed to take an age for Green Day to take to the stage. When they did, there was a massive surge forward in the crowd as the band launched into the opening track from Nimrod, 'Nice Guys Finish Last.' Almost immediately, a large proportion of the mosh pit (which we were part of) collapsed. All of a sudden we were practically lying down on fans behind us, with the people in front, on top of us. It was really quite frightening at the time, as we had no control, and the band had to stop playing. Billie Joe directed the crowd to "pick each other up!" before they could carry on.
Once we were back on our feet, the band started up the song again, and our adrenalin took over as we went crazy for rest of the short, but typically song packed set. I can still remember looking at my friend Tim at one point, and we both just gave each other this mad look, with clenched teeth and wide eyes. It was our way of communicating our joy, and triumph at surviving this intense Green Day experience!