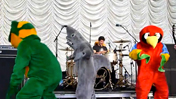 Currently, My Chemical Romance and Blink-182 are on the "Honda Civic Tour" together and were both interviewed by Spin magazine about tour pranks. Both bands said that they currently do not pull any pranks on each other, but when they both had memorable stories of being pranked when they were on tour with Green Day.
Mikey Way of My Chemical Romance said:
"When we were out with Green Day they got us really good on the last night of the tour. They had a garbage bag filled with popcorn above me and they poured it out during our set. They also had flood lights and their lighting directors came out and pointed them directly in our faces. Every time [MCR frontman] Gerard [Way] tried to talk between songs they'd light off the concussion blasts -- and then the band came out onstage with light sabers and were fighting while we were playing [laughs]."
Tom DeLonge of Blink-182 talked about one of their tour pranks being inspired by Green Day.
"We don't really prank anybody. Well, we did [on a previous tour] with a bunch of concussion light blasts during Jimmy Eat World's set. We did it just randomly in the middle of a song. [Frontman] Jim [Adkins] would be singing about a girl and we'd just hit it. That was partly Green Day's idea, too."
You can read the whole interview on Spin.com by
clicking here
. Also you can find out more information about Blink and Green Day teaming up on Jimmy Eat World
here
.
Thanks to Naokko for posting this on our forum.