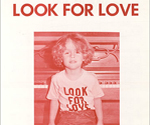 When Billie Joe was just five years old he used to go around to hospitals and nursing homes with his dad to sing to the patients in hopes of making him feel better. This soon led to Billie recording his first song, "Look for Love" with a local recording company, Fiat Records.
The song was originally released as a single on 7" vinyl with a bonus interview with Billie at the studio on Side B. A clip of this recording can be heard at the start of the song "Maria". The original 7" was sold for only $1.25. Today with only a limited amount still in existence, I have seen these go on Ebay for almost $500.
For this Featured Download we are letting you download both the song "Look For Love" along with the interview with Billie Joe that was featured on the B side of the original recording.
You can head on over to our
Featured Download page
to download the song and interview now.