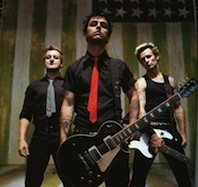 Green Day's American Idiot is listed at number 68 in
Time Out London's
top 100 songs that changed history:
"In the early Noughties, this pop-punk trio were on the slippery slope to irrelevancy, but when an entire album's worth of recorded songs were stolen, Billie Joe and co went back to the drawing board. Drawing inspiration from the Bush's ham-fisted leadership, the band produced a career-rejuvenating punk rock concept record that went on to shift 14 million units. The title track was a rallying three-chord cry encouraging music lovers to question their neo-conservative government and the media's brainwash agenda. For the first time in decades, political pop was a mainstream mega-smash"
You can see the full list of songs that made the top 100 by clicking
here
.