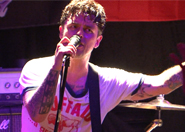 GreenDay.com has just released about twenty pictures from their recent surprise show at the Tiki Bar in Costa Mesa, California. These are the first pictures that are good enough quality to actually look at and not like the crapy camera phone pictures that we have received up until this point.
These pictures really give you a feel of how intimate of a show this really was. In the pictures we can tell that the stage was barely off the ground and there was no security pit between the stage and the audience like we see at most normal Green Day concerts. It is also really cool to look at the pictures of the audience and see some of our friends such as
DJ Rossstar
.
You can take a look at all the pictures over on GreenDay.com by
clicking here
.
Thank to @GreenDayMind for the news.