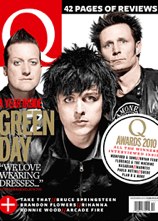 Green Day
have been nominated
in the 2011 Q Awards for the category of "Greatest Act Of The Last 25 Years." Our favourite punk rockers are nominated alongside other legendary bands such as Beastie Boys, R.E.M and Nirvana, to name a few.
You guys can vote for Green Day on
the Q Awards site
. Anyone who enters to vote also has a chance at winning two tickets to see the award show in London which will take place October 24th at Grosvenor House in London. Green Day will most likely not be at the ceremony, since they are scheduled to perform at
Will Ferrell's Mark Twain prize ceremony
in Washington the day before.
Voting ends October 7,
so sign up here
and vote before then.
The full list of nominees can be seen over at
Fanatix.com
.