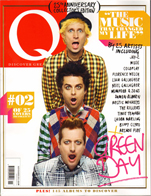 Some pretty big news for us Green Day fans this week is that Green Day is going to featured on the cover of Q Magazine's
25th anniversary issue
, along with a brand new interview with the band.
At first glance of the cover I got extremely excited since I noticed the brand new photographs of the band that are featured. I am personally hoping that the new interview will focus on Green Day's "surprise" show at the Tiki Bar last month since the band has stayed relatively quite since then. I would also like to see the interview give us some insight into how far along Green Day are into making their next album, but that is all wishful thinking at this point.
The Green Day cover is one of 25 different covers of the magazine so, unfortunately it may take some digging around to find the copy with Green Day on the cover. I was unable to find out information about when their 25th anniversary issue will be out on newsstands, but we will keep you updated for when it is available for sale.
To coincide with Q's 25th anniversary, Q is also holding a readers poll to determine the "Greatest Live Act of the Last 25 Years." You can read more details about the contest in
this post
that Tony put up earlier this week.
Thanks to Ingrid for posting this on our forum.