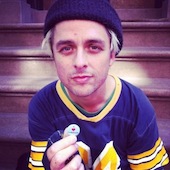 Trekstock
is a charity involved in "fundraising for research into cancers that affect young people through the creative industries." One of their representatives met Billie Joe in New York last weekend and posted
a picture on twitter
of him holding one of their "Trekstock" badges.
"Trekstock was founded in 2006 and aims to raise awareness of cancer in young people, and to ensure those affected receive the information and the support they need. Profits from this raffle will fund the lifesaving research into the specific types of cancer that affect this age group, including Hodgkin's lymphoma."
Head on over to the
Trekstock website
for more information, and
here
if you'd like to donate.