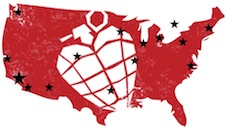 Yesterday, during all of the madness of the surprise Green Day show, the full touring cast of the American Idiot Musical was announced over on
AmericanIdiotTheMusical.com
.
Playing the lead role of
Johnny
will be Van Hughes. Many Green Day fans who have already seen the musical during its run on Broadway will be extremely excited since Van played the role of Johnny after John Gallagher left the musical, and Van has been apart of the crew all along.
Other returning cast members include Leslie McDonel, playing the part of
Heather
and Krystina Alabado as an ensemble.
New cast members who will be playing lead roles in the musical are Jake Epstein, who will play the role of
Will
, Scott J. Campbell playing the role of
Tunny
, and Gabrielle McClinton playing
Whatsername
.
We're still waiting an announcement on who will be St. Jimmy...
You can see the full cast listing over on AmericanIdiotTheMusical.com and read full bio's on each of the cast members by
clicking here
.