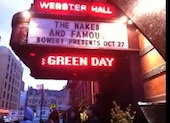 Green Day's surprise Halloween show is taking place tonight in New York. We're getting news in as we speak!
Apparently, the "surprise guests" for tonights show are Gerard Canonico, John Gallagher Jr. and Michael Esper - also know for their parts in the cast on Broadway in American Idiot.
Also, we gather that Green Day sound-checked earlier with "Supermodel Robots" (The Network) and "Stop, Drop and Roll" (Foxboro Hot Tubs).
Looks like there are plenty of surprises in store... stay tuned for updates through the night.
You can visit
this thread
on our forum for up to the minute discussion about tonight's show!
(picture credit: thatgirlallison)