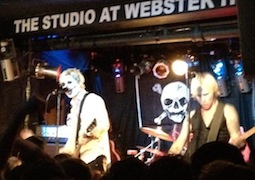 Green Day's surprise Halloween show in New York has finished! Early reports suggest they played for around 2 hours and started with Billie Joe singing parts of
Basket Case
and
Good Riddance
to the tune of "Monster Mash". They went on to cover the Misfits song "Hybrid Moments" (3 times!) and then a bunch of their new songs including "Carpe Diem", followed by a "greatest hits" set.
Billie Joe is described as being dressed as Jack Skellington from the "Nightmare Before Christmas", Tre as a fairy/ballerina, Mike as a zombie, and Jason as Mad Hatter.
Here are other songs that we've heard were played: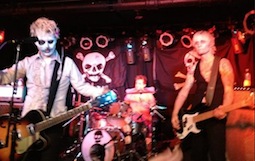 *UPDATE: See this post for actual setlist!*
Hybrid Moments x 3 (Misfits cover)
Carpe Diem
Stray Heart
Stop, Drop and Roll
Fuck Time
Blue Moon Of Kentucky (Bill Monroe/Elvis cover)
Welcome To Paradise
Geek Stink Breath
Hitchin' A Ride
She
Going To Pasalacqua
1,000 hours
Murder City
Letterbomb
2000 Light Years Away
Paper Lanterns
GreenDayMind on twitter has posted a photo of Mike Dirnt's setlist. You can view that by
clicking here
.
Head over to
the thread
on our forum for more updates and pictures that are surfacing from the show. We'll be bringing more updates and recaps here through the day.
Sounds like it was an amazing night!