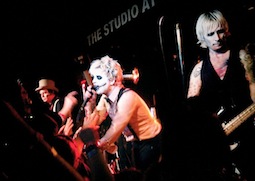 More details and pictures are filtering through from last night's Green Day Halloween show at The Studio at Webster Hall. The more we hear, the more incredible it sounds!
According to Rolling Stone: "The show was also being documented for a film about the band's creative process on the new album." They have a great recap of the show. You can read it
here
.
Here's a few more articles about the show:
The Village Voice blog
,
Bowery Boogie
,
The Audio Perv
,
Examiner
&
The L Magazine
.
Adrienne Armstrong posted these pictures on
twitter
of herself, Billie Joe and Jason White in their costumes:
Here's a picture of Mike Dirnt's set list for the show (the last 7 songs were not played):
*Update*
- Lots of pictures
here
thanks to
thatgirlallison
.
And some more
here
thanks to
@GreenDayMind
.
Green Day covering Misfits song "Hybrid Moments" courtesy of
banittles YouTube channel
:
And... Hitchin' A Ride:
There's some more short video clips on
Danny20n's YouTube channel
.
*Update*
- AUDIO:
Monster Mash!
Thanks to
@AHSchwartz
:
Green Day - 01 - Monster Mash Up
Thanks to all the GDC'ers and peeps for sharing all these for those of us who couldn't be there!