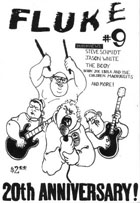 Earlier this year we distributed Fluke, a zine created by Jason White alongside two of his friends Matt and Steve back in 1991. In their 20th anniversary issue, Matt interviews Jason about his music, growing up, and playing with Green Day. We now have more in stock, so you can
order from here
. It's easily one of the best interviews you're ever going to read with Jason White.
Here's a short quote from the zine:
"Fluke: Do you prefer the intimacy of playing to a crowd in a small venue or to playing in front of tens of thousands of fans?

Jason: Personally, my favorite venues to play are theaters. Old theaters are great because it usually sounds great and you get a bunch of people in there but there's a great feeling about it. When you really get something together special, that's how it should be, you know? That's my favorite presentation, ever. Now, playing clubs is fun and intimate because you're all in there sweating and bleeding on each other. There's something great about all of them. House shows are amazing. We just played Lollapalooza in Chicago, it was incredible. It was one of my favorite shows of all time."
Along with the interview with Jason White, the 20th anniversary issue includes an interview with their friend Steve Schmidt and
Bobby Joe Ebola and the Children MacNuggits
, who opened for
The Frustrators
earlier this year.
The zine is
available worldwide from GDA
for $2 + shipping.