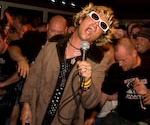 One year before Green Day released their latest epic
21st Century Breakdown
, Green Day was performing under their alias name, The Foxboro Hot Tubs. Like most of Green Day's smaller shows, their was a strict "no camera" policy that was put into place during the shows and very little recordings from the shows were released onto the internet.
Now over three years after these shows have taken place the first full-length bootleg from a Foxboro Hot Tubs show has appeared. The setlist of this show is as follows: "Stop Drop And Roll", "Mother Mary", "Ruby Room", "Red Tide", "Supermodel Robots", "Blood, Sex And Booze", "Highway 1", "Broadway", "She's A Saint Not A Celebrity", "Sally", "Alligator", "The Pedestrian", "27th Ave. Shuffle", "Dark Side Of Night", and "Pieces Of Truth".
This show was the first show that Green Day ever played as The Foxboro Hot Tubs, ironically exactly one year before
21st Century Breakdown
came out on May 15, 2009. You can download the 35mb MP3 file over on our Featured Download page by
clicking here
.
Thanks to Liam on our forum for providing this download.