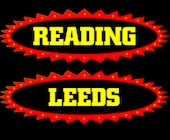 Well, the rumour mill about Green Day performing at Reading/Leeds Festival have started especially early this time round. Whether that's an indication there is some substance behind them this time, we don't know. Over the last few years, Green Day have been linked to the UK August (Bank Holiday) festival pretty much every time, but their last appearance was back in 2004, just before the release of album
American Idiot
.
The fresh rumours for next year's UK festival have come from
gigwise.com
. They claim that an "exclusive source" has told them that Green Day will be headlining, along with
Foo Fighters
and
Prodigy
.
At this moment in time, i'd suggest taking the rumours with a 'pinch of salt' as we've seen very similar stories like this in the past, which haven't come to fruition. Like many of you, i'm excited at the possibility of this marking a return for Green Day, plus there have been whispers (someone mentioned on a radio station) that a spring new album release could be on the cards. It's all very much speculation at the moment though, so let's wait and see!
Thanks to @Juliarmstrongg and Ally for sending this news.