Photographer Bob Gruen did
an interview with SoundSpike
talking about his career as a rock photographer, documenting some of the biggest rock bands in the world. Here's an excerpt about his thoughts on Green Day: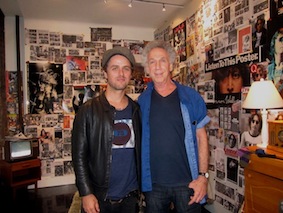 "You toured with Green Day last year. What was that like?

Oh yeah, I really have a lot of fun with those guys, they are among the funniest people I know. They're constantly cracking each other up. They're great. They're one of the best band's I've hung out with, and I really enjoy their music and I really enjoy them. They're punks, they've got a real great attitude. You know that Walmart is one of the biggest sellers [of CDs] -- I think Walmart sells about half the CDs and albums in the U.S., and they're very strict about the language on CDs. Some bands will change the lyrics so that Walmart will carry their record. When their last record came out, Green Day refused to change their lyrics, and Walmart wouldn't carry the album. When they asked Billie Joe how he felt about that, he said, "Well if they think it's dangerous why don't they just move it out of the record department and sell it over by the guns and knives and the other dangerous things they sell." That's the reason I like Green Day. They just have common sense and a good sense of humor."
Check out the full interview
, it's all very interesting. He talks about some of the other artists he's worked with like John Lennon, The Clash, and Tina Turner, as well as photography and the role it has with music.
Thanks to Alan86 for posting this on our forum