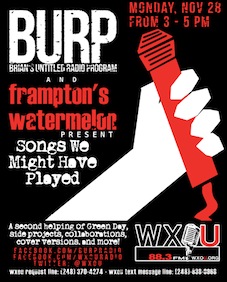 You guys and gals might
remember
a few weeks ago, our friends at
WXOU
Radio in Oakland held a 2 hour Green Day dedicated radio show. It was an awesome experience for everyone involved, and guess what? They're doing a follow up... today!
You can
tune in LIVE
from 3pm EST tonight for the "Songs We Might've Played" show!
*UPDATE: The show is now finished - you can download the show or listen below - BIG thanks to stuart_and_the_ave on our forum*
First up, we have "BURP" (Brian's Untitled Radio Programme) with an hour of all things related to Green Day, followed by another hour on "Frampton's Watermelon"!
Green Day Radio show by stuart_and_the_ave
If last time is anything to go by, it's gonna be a lot of fun. As well as listening, you can call in to the show and send your requests and comments to @WXOU on twitter. Be sure to check the flyer for all the ways you can get in touch right
here
!
We'll give you all a reminder on our @GDA twitter when it's about to start... 'hear' you there!