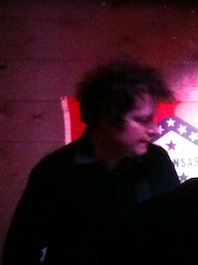 A very good friend of ours, Lori Champion, was lucky enough to catch
The Big Cats
show that took place in Little Rock, Arkansas, just before Christmas. Lori was kind enough to share her experience with the 'awesome foursome' - with photos, videos and an awesome recap about the show that night!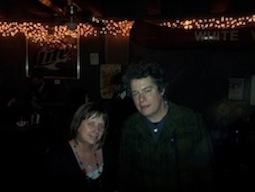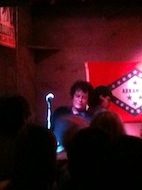 You can check out the video on our
GDA YouTube Channel
.
A huge thanks to Lori, you can follow her on twitter @lbchampion - what are you waiting for GD twitterati? ;)
For once in my life I was in the right place at the right time; Little Rock Arkansas on Dec. 23 and I had tickets to see The Big Cats. Being the responsible and completely uncool people we are, my husband, cousins and I got to the tavern at 8:30 not realizing that the printed time of 9:00 actually meant 10:30ish. Our early arrival did allow us to claim one of the two tables, which meant I had a chair to stand on so I could see. I guess the early bird really does get the worm.
After the opening act (I never did catch her name) The Big Cats took the stage and launched into the first song. I'll be the first to admit, I didn't know much about the band. If Jason weren't in it I probably wouldn't know of them. They only play a show once a year, there is little publicity, and much of their fan base is centered in the Little Rock area. That evening I learned that each member of the band practices their part throughout the year and they only rehearse together days before a show. That makes what I witnessed that night even more amazing. Any passerby ho stopped to listen in would have no idea that this was a band that rarely played together.
We all know Jason is a phenomenal musician and the same can be said for his band mates. Burt, Colin and Josh are just as accomplished. I was busy enjoying the show from my perch on my chair and didn't think to make a set list. I do remember they played Address to Address, King of Brief, Orchard Burns, and my favorite Note to Successor. They may have played the entire album. As much as I enjoyed listening to the songs, my favorite part of the evening was watching them play. Colin the drummer is a natural. I have never seen anyone move so fast and he does it all with only the occasional glance at his drum kit. Josh the bass player maneuvered around the tiny stage never missing a beat, and Burt never faltered. And of course Jason played the way he always does, lost in the music, seemingly unaware of anyone else, playing perfectly. Only this time, instead of being tucked away on the side of the stage, he was right up front where he belongs.
After finishing the set and leaving the stage the band came back to play one more song, a cover of The Whole Wide World by Wreckless Eric. It was the perfect song to end on and in my opinion, much better than the original.
We've all heard the expression "it's a small world" and that night it rang true. It turned out my cousin-in-law Krystie is friends with Jason's brother Danny White. We chatted with Danny throughout the evening and he told me about his family, and Jason and the Green Day shows he had been to.
When the show Danny said he would go get Jason and bring him over. I'm not typically a person who is excited to meet "celebrities" but this wasn't a celebrity, this was Jason White-to me it was like meeting a Beatle. I tried to play it cool while Danny went to get Jason but inside I was attempting not to hyperventilate. I am a fairly shy person, and a bit awkward when meeting someone new. Once Jason was standing in front of me I inexplicably lost the ability to talk for what felt like an eternity (in reality it was only a few seconds). Eventually I came to my senses and said something along the lines of "Hi, I'm a big fan." Jason shook my hand and asked my name and I introduced him to my husband. This is where things start to get fuzzy. I know we talked but I really can't recall what was said. I remember he thanked us for coming to the show, and he talked a little bit about the 6:00 show. I told him that Andres from GDA said hi and he said he vaguely knew who Andres was. At some point we started talking about Las Vegas and I told Danny we would take him to an awesome off the strip pub when he came to Vegas and then I proceeded to ramble on about a drunk Australian we met there who tried to buy us tickets to Australia (I told you I can be a bit awkward). Having sufficiently embarrassed myself it seemed like a goodtime to say our goodbyes and head out.
As we got to the door I noticed a familiar face at the bar. I had noticed Jeff Matika several times throughout the night and had wanted to say hi but wasn't sure how to approach him. I decided this was my moment and I tapped him on the shoulder and asked "are you Jeff Matika" (yeah, I already knew he was but it was a good opener). He looked at me, probably trying to figure out if he knew me, and I said "hi, I'm Lori, I'm a fan." He shook my hand and said he was surprised I knew who he was because no one ever knows him. I smiled and assured him that any good Green Day fan would recognize him. With that I headed out the door and began looking forward to the next Big Cats concert! And if any of you ever have the chance to see them play, don't hesitate. It is well worth your time and the ten bucks!