Last year we introduced a new
articles section
on GDA which houses all the magazine scans we've collected over the years that feature Green Day. It's currently 151 articles from 49 magazines with nearly 750 pages of articles, definitely one of the collections I'm most proud that we've been able to keep and build over the years.
We've just updated the section with some better navigation to allow you to read through articles and find stuff you want much easier. You can
sort by magazine
to browse through there if you're looking for something specific.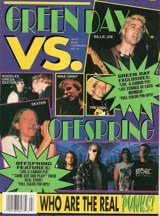 To celebrate these improvements we've added a new
33 page article
from 1995 from Starline magazine. It's an expose looking at the two newest and biggest bands onto the rock scene, Green Day and The Offspring. The article talks about Dookie's success but also writes about the history of the band and each member. It's a pretty interesting read to see how things looked to Green Day and the music scene 17 years ago. Thanks to @pasalaska for sending these scans to us.
Here's a quote from
the article
:
"One thing's certain about Green Day: you never know what to expect from these Bay Area boys day to day, except a committment to be the best they can be at what they do for a living (and at partying!). Concludes Armstrong with a smile, "Mike and Tre are the people I most like to play music with. And that's the most credibility you can have to stay true to your music." Add Mike Dirnt, "We fought our way out. And now we get to have what we want."
Check out the full thing in
the articles section
.