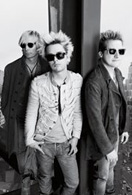 Little has been mentioned about Green Day's follow up to 2009's
21st Century Breakdown
, but many magazines believe that this year will be when Green Day release their new album. Aside from the handful of surprise shows that Green Day put on late last year no word has been said about the next album. Billie Joe even said at their halloween show in New York that the album "doesn't even exist yet."
Billboard.com has come out with an
article
that includes their "best bets" on what new albums will be released this year. In the article, Billboard was able to exchange words with Butch Vig, the producer of
21st Century Breakdown
.
"I think Billie is still in writing mode," Vig says. "I know they have a ton of songs."
You can read the full article over on Billboard.com by
clicking here
.
In
August
we put up a poll asking you guys when you thought the new album would come out with almost 70% of you saying 2012. Lets all hope that this will be the year for big things to come from Green Day once again!