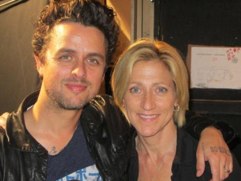 Back in
October
we posted that Billie Joe will be guest starring on the Showtime show "Nurse Jackie." At the time, we didn't know a premiere date for that,. but
now we do
! April 8th, at 9pm EST on Showtime, the new season of the show kicks off with Billie Joe as a middle-aged druggie. Note that tattoo on his hand, that was a temporary tattoo just for his character on the show.
We first got word about this appearance when the photo on the left was tweeted out by executive producer of the show @Richie_Jackson:
"Edie & our new cast member @BJAofficial! Wait till you see the season premiere! "
So begins the countdown to April 8th for all of us to check in on Billie Joe's acting skills. Of course he last attempt (not including his Broadway run) was a short guest spot on the short lived show Haunted which starred Matthew Fox (from Lost) in 2003. You can view a clip below.
Thanks to zipgunonparade, Meaghan and @GreenDayAngel for the news