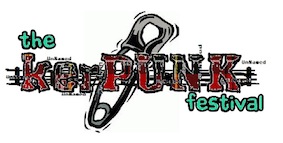 Amazing day yesterday for part 1 of The "KerPUNK" Fest... where to begin?! Well, we'll have a full recap in the coming week, but first of all, it's time for '2nd Chance Sunday'!
Anyone who can make it, should get themselves over to Dingwalls in Camden Town, London from 3pm today, for more of the same!
Most of the bands that performed yesterday are lined up for a 2nd stint today, can they possibly outdo yesterday? We'll have fun trying...
There should be sets from Bobby Joe Ebola and The Children Macnuggits, Prima Donna, Kepi Ghoulie, The Phenomenauts, Fever Charm, and Adam Bones along with a few more from the Bay and UK!
Follow/message me @greendaytone on twitter, or e-mail me at greendaytone@hotmail.co.uk for more info.
See you over there!