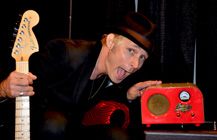 As we
posted
the this past Sunday, Mike Dirnt and Tre Cool attended this years National Association of Music Merchants trade show in Anaheim, California.
Fender.com
posted on their blog
about catching up with Mike at the show. Mike helped give feedback to Fender about their Bassman Pro Series when they were first designing the amp and was "thrilled" seeing the reaction of other bassist using the amp.
Fender went on to say...
"Back in our "Green Room," Dirnt also plugged in a Fender Strat to see what the new Greta Pawn Shop Special Greta and Excelsior amps could do. He promptly ordered one of each - the Greta is headed to his home office while the Excelsior was tagged for the Green Day studio in Oakland, Cali., where the band is preparing to start recording their next studio album."
It is great to hear from
so many
different outlets that Green Day is indeed preparing to start recording their next album. The full article is available for you to read
over on Fender.com
.
Thanks to desertrose for posting this on our forum.