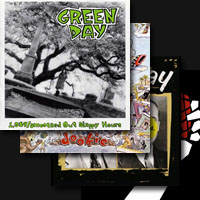 We're currently trying to figue out what the best Green Day song is according to our visitors. The voting is taking place over the next few months, where we'll be voting on a favorite song from each album every week.
Last week we voted
for our favorites off 1039 Smoothed Out Slappy Hours and the champion there was Going to Pasalacqua which took away a pretty clear majority with 'Paper Lanterns' coming in a distant second.
This week
we're voting for our favorite song from Kerplunk
. It's currently a very close vote between 'Christie Road' and and 'Who Wrote Holden Caulfield?' There's still a few days left to vote.
Starting on Monday we'll begin voting for our favorite song from Dookie (pretty sure I already know my answer).
If you're not a member of our forum,
I encourage you to register
. It's free and you'll connect with some of the biggest Green Day fans online, plus you get to vote.
If you'd like to be reminded when voting starts on the next albums, follow our forum on Twitter @GDCforum. We'll tweet the results at the end of the week plus a reminder when to vote on the next album.