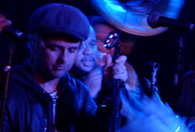 I'm not sure how this one slipped under our radar but, apparently back in
December
Billie and Tre stopped in and jammed with the Soul Rebels after one of Metallica's 30th anniversary shows.
The Soul Rebels are a New Orleans brass ensemble who opened for Metallica at their anniversary shows at the Filmore in San Francisco. At each show the brass band would start off the show with a two Metallica classics, "Enter Sandman" and "One." More information can be found on the Soul Rebel's
website
.
You can check out a few pictures over in our
Picture Vault
and view a short video of Billie jamming with the Soul Rebels over on the Boom Boom Room's
Facebook page
.
Thanks to WestboundSign! on the forum for this news.