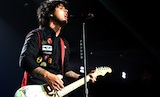 GDA has confirmed that Green Day will be headlining this year's Summer Sonic music festival in Japan, August 18th and 19th. The festival will be held in Osaka and Chiba, Japan.
Earlier today, Summer Sonic's
official website
posted that Green Day were to play at the festival. This sparked many rumors, but we have now confirmed this information to be true.
We're not sure which day (if not both) the band will play, or which location they will play at. If I had to guess, I'd say August 18th in Osaka. Green Day have played at Summer Sonic a couple times before back in 2000 and 2004, but not have returned since.
Other confirmed acts for the festival include Death Cab for Cutie, Passion Pit, New Order, and Rihanna (for some reason) among others.
Does this mean a new album from the band on the horizon? Back in 2004 when the band played the Summer Sonic and Reading & Leeds festivals, it was just before
American Idiot
was released. Could this be a similar situation? Stay tuned.
When we find out more information regarding the festival, we will be sure to let you know.
Thanks to Jaymee on the forum for posting about the (at the time) rumor