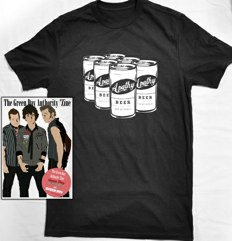 Here's a quick update for anyone who ordered one of our "
Six Pack of Apathy
" t-shirts or the
bundle
(t-shirt + zine).
We've shipped out 95% of orders from the US (all US bundles have been shipped), but unfortunately we've had a small delay in our second batch of t-shirts, which means orders outside North America will have a little more wait. The shirts are being delivered on Friday then being shipped to England where they'll be mailed out to each individual.
Current plans are that every order will be shipped out by March 12th - sooner if possible. I apologize for the delay - we had more orders than we expected but I'm working hard to make sure that everyone's order gets out as quickly as we can get them out.
If you're from the USA, Canada, or Mexico - your order has been shipped already or will be out by tomorrow afternoon. You will get an email notification once your order is out the door.
If you ordered
any other items
(zine, wristbands, stickers) - your order has been shipped. The only item on hold is the t-shirts while we get more printed.
Thanks for your patience while we get everything in - and thanks to everyone who has bought an item from the
GDA merch page
. This income is all going directly to helping fund GDA and any future projects we get to do.
If you have questions or comments about your order, please feel free to get in touch with us at orders@greendayauthority.com.
Thanks!