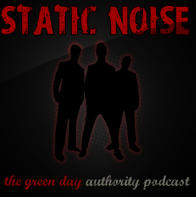 On this week's "Static Noise" we talk about the two studio videos uploaded by the band, rumors of the band playing the UK this fall and Jimmy and Matt disown me because I listen to Coldplay.
We ask another trivia question at the end of the show based off
our new GDA zine
. Email us the correct answer to win a free copy of the zine!
Listen to the show
Or you can
right click this link
to save the file directly.
iTunes
You can also subscribe
to the show in iTunes
to automatically download the latest episodes. If you have a couple minutes to spare, please leave us a review
there
as well.
Topics Covered
Purchase a 'Zine or our Apathy shirt
http://www.greendayauthority.com/merch/
Jack and Bryony join the news team (
@jack__yates
and
@bryonyisabela
)
Email us: staticnoise@greendayauthority.com