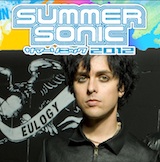 Last month,
we broke the news
that Green Day are going to headline Japan's Summer Sonic music festival later this year. At the time, we weren't sure of too many details, just that the band was going to be playing.
Tuesday night, more information was
released on the band's official site
, which says that they will play August 18th in Tokyo and then the 19th in Osaka. This seems to be the typical format of the festival.
Will the band have new material to play at the festival? Well, OK, they DO have new material, but will they play it? We shall see. I would guess that the band will have a new single out by that time.
More information on the festival can be found on
Summer Sonic's website
.
As we discussed in the
latest episode of Static Noise
, there are also whispers of a UK tour being planned for this fall. New rumors came out today that suggest a tour will be announced soon, but I'm not crossing my fingers on that one.