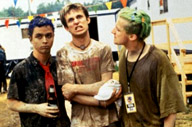 Over the years Green Day has had some pretty crazy shows that have ended up with riots, getting naked on stage, and members being arrested, but nothing can top Green Day's performance at Woodstock 94.
Green Day's performance at "Mudstock" came in at
number two
on GigWise.com's list of "Most Disastrous Festival Shows."
"Woodstock 1994. The event is also known as 'Mudstock' as Green Day's frontman Billie Joe Armstrong started shoving mud into his mouth after the crowd chucked mud at them their performance of 'Paper Lanterns'."
Other bands that made the list include My Chemical Romance, Justin Timberlake, The Sex Pistols, amoung others that can be seen over on
GigWise.com
.
This list made me want to take a look back into Green Day's "police file" and see what other crazy events the band has been apart of, here are a few of my personal favorites: Green Day
trashes Tower Records
in NYC, Billie Joe
"drop kicks"
an audience member, Green Day gets
kicked off
Recovery TV after playing "The Grouch," and of course
Mudstock 94
.