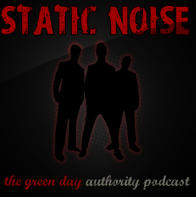 On this week's "Static Noise" we talk about more festival dates being added to Green Day's fall tour, the new studio video that was released, and our usual off-topic stuff!
Listen to the show
Or you can
right click this link
to save the file directly.
iTunes
You can also subscribe
to the show in iTunes
to automatically download the latest episodes. If you have a couple minutes to spare, please leave us a review
there
as well.
Topics Covered
Purchase a 'Zine or our Apathy shirt
http://www.greendayauthority.com/merch/
Jack and Bryony join the news team (
@jack__yates
and
@BryonyIsabela
)
Email us: staticnoise@greendayauthority.com