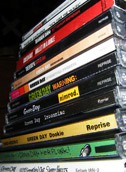 With the news of Green Day's three album trilogy
¡Uno!
,
¡Dos!
and
¡Tré!
breaking
last week
, NME.com took a look back at Green Day's back catalog of eight studio albums and ranked them from best to worst.
Coming in at the number one spot surprisingly isn't the 2004 release
American Idiot
, but the bands 1994 major label breakout album
Dookie
.
"Green Day's first serious success - and first album with the major bucks of Reprise behind them - was the kickstarter for the American punk revival scene, and singlehandedly allowed Sum 41 and Blink-182 to enjoy long careers. But don't hold that against it. 'Dookie' is relentlessly excellent, whether celebrating their new-found adolescent freedom on the re-recorded 'Welcome To Paradise', finding a bit of groove in 'When I Come Around' or satirising Armstrong's anxiety disorders with sweet harmonies on enduring favourite 'Basket Case'. Sixteen million worldwide sales to date suggest it was all worth it."
Interested in seeing where NME ranked the rest of Green Day's releases? Head on over to NME.com to read the
full article
and get some insight into what they feel about each album.
Thanks to desertrose for sending this news.