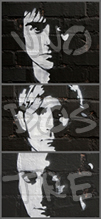 With the shocking, yet exciting, announcement on Wednesday of Green Day's new trilogy of albums,
¡Uno! ¡Dos! ¡Tré!
, us fans were left drooling out of our dropped jaws at the amazement of the news. I mean,
three
albums? Nothing like this has been done before in the Green Day world. According to the band,
""We are at the most prolific and creative time in our lives. This is the best music we've ever written, and the songs just keep coming. Instead of making one album, we are making a three album trilogy. Every song has the power and energy that represents Green Day on all emotional levels. We just can't help ourselves... We are going epic as fuck!""
Within that announcement Wednesday, we not only learned the album titles but release dates as well.
¡Uno!
will be released on September 25th of this year, with
¡Dos!
following on November 13th, and
¡Tré!
wrapping things up on January 15th. Also officially confirmed was that Rob Cavallo is producing the albums. We were 99.9% sure of this before yesterday due to Rob appearing in the band's recent update videos from the studio, but it's nice to have some official confirmation.
We also learned that the band is recording the albums
exclusively
at Jingletown Studios in Oakland. Prior albums, such as
American Idiot
and
21st Century Breakdown
, have started at Jingletown (previously named Studio 880) and then moved down to Ocean Way Recording in Los Angeles.
On February 14th, Billie came out of the dark ages and
updated us on Twitter
with "Happy Valentine's Day! Officially started recording the new record today. It's FUCK TIME!!!!" This sent an explosion of excitement to us and our visitors here on GDA and GDC, as well as news outlets around the world. NME, Alt Press, Rolling Stone, Punk News, you name it, all had stories about the band being back in the studio recording. Green Day land was revived.
With all the surface details out of the way, we are still left with questions like, "What will the music sound like?", "Will it be another concept album?", or "Will all three albums tie together and form some story?" At this point, we don't know much other than what we've heard from the secret shows and what the band has talked about in the studio updates. But Rob and the band did discuss those questions in
a new video that was released Wednesday night
, and Billie responds by saying, "I think there's a story in this whole thing." Mike adds, "I think this reaches a-whole-nother dynamic."
Of course, there were all the articles from various news sites across the web that over-played Billie's words when he said, "This is the first time we've sang about fucking," in a recent video from the studio. These news sites heavily attached onto his words and assumed that the whole album was going to be about "fucking." From the songs we've heard so far, this is far from true. Though there is certainly the possibility of songs being that way because, you know, it
is
Green Day after all.
Ever since Billie tweeted on Valentine's Day that the band has started recording, we've been getting a video from the studio about every week. In these videos, we've seen the band rehearsing, discussing the albums, and just having a lot of fun, which is great to see. But now that we know more details on the albums, what clues have they given us?
In the first video they had some album details slip through the cracks! We get
a shot of the band in the control room
with a white board in the background that has some song titles on it. Songs such as "Nuclear Family," "Stay the Night," and "Carpe Diem," all songs that we've heard of before. Also in that video is
a shot of more boards
. Though this time there are three of them, and three pieces of paper. Possibly splitting them up per album? Sadly, we cannot read what's on those.
On February 24th,
a new video was released
and was certainly our most interesting to date at the time as we hear Billie and Mike discussing the album's lyrical content. Billie mentions that the albums are "so personal and so voyeuristic." "This is the first time we've ever sung about fucking." Mike goes on to add, "The songs are going to fucking blow their minds."
The
next interesting video
we got was on March 22nd. In it, we hear Billie saying, "We're literally dealing with a new sound and it's fucking with my head." Rob goes on to say, "It takes balls to do this." And, "Wow, that's a big powerful statement." Also in this video we can hear glimpses of what sounds like the solo from "Carpe Diem."
One more clue
that we received was the video that was released earlier this month. In the opening we see Billie sitting with Rob and Billie is counting on his hand "one, two, three," and Rob chimes in with "Oh, wow!" Could this be referring to the three albums? Of course, we're not sure and it could very well be just a coincidence. Cool none-the-less!
Of course, as most of you know, blurbs of a new record started way back in August when the band
announced
they were going to play a "secret show" at The Tiki Bar in Costa Mesa, California. And what a show they played. The band unleashed over a dozen new tracks and played a few songs from their back catalog, all in a tiny bar that only held a couple hundred people. Since that show, the band played a handful of more "secret" shows in California, New York, and Texas; playing new tracks at them all.
Rolling Stone attended the band's Halloween show in New York and wrote up a
great article
afterwards reviewing the new tracks as well as reveling the information that the band is filming a documentary about the creation process of the new albums. Could this be where all the videos are coming from? We'll have to wait and see if that documentary surfaces. We can only hope!
The whole leading-up-to process of this album has been really fun and it's really pretty cool that the band has decided to include us on the ride with the various studio videos, tweets from Billie and Mike, and secret shows. This has been much better than the lead up to
21st Century Breakdown
where we were basically left in the dark, aside from a couple videos from producer Butch Vig and a magazine article relaying details of a few songs. Luckily, there are only a few more months until
¡Uno!
is released and I can't wait to see what the band still has in store for us leading up to the albums.
--
Matt