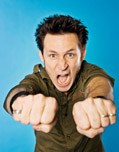 The
Idiot Club
has just announced that after the recent success with their fan Q&A with Billie Joe's wife, Adrienne, they have decided to conduct another question and answer session, this time with Mike Dirnt.
From now until May 23rd the Idiot Club will be taking questions and will send the best 10 questions to Mike to answer. The answers will be posted exclusively on the Idiot Club for members to view.
Also, last week the Idiot Club started a contest to giveaway a copy of The Boo's album. Many of you will remember that around Christmas Billie and his family
recorded
an album under the name of "The Boo" to give out as a Christmas card to their friends and family. The album was never officially released to the public which makes it an extremely rare item.
For complete details on both of these contests head on over to the
Idiot Club
.
Don't have a membership to the Idiot Club? You should check out
this contest
that we are currently holding on GDA to cover a song off of
21st Century Breakdown
. The contest ends tomorrow, May 10th at 11:59pm EST so act fast.