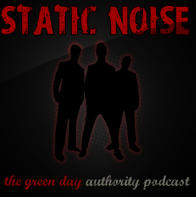 65: Thoughts on Glee, "American Idiot," Mike Dirnt, and various Idiot Club promotions
On this week's "Static Noise" we take a listen to Glee's cover of "Good Riddance" and reflect on other covers of the track. We also talk about Mike Dirnt's Idiot Club Q&A and other various Idiot Club promotions.
Listen to the show
Or you can
right click this link
to save the file directly.
iTunes
You can also subscribe
to the show in iTunes
to automatically download the latest episodes. If you have a couple minutes to spare, please leave us a review
there
as well.
Hosts
Matt
|
Dylan
Contact Us
We invite you guys to write in feedback, stories, whatever for us - staticnoise@greendayauthority.com. You can also follow us on Twitter (@StaticNoiseGDA) or like the
show on Facebook
.
Show Notes
Glee's cover of "Good Riddance" is released
Voting begins on cover song contest
Mike Dirnt Idiot Club Q & A
Idiot Club "The Boo" contest
Kerrang! reviews "American Idiot"
To Ballad, or Not to Ballad