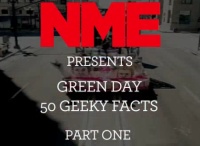 Are you new to the Green Day world? If so this video is perfect for you! NME.com has
posted
a video which lists "50 Geeky Green Day Facts."
This is part one in a two part series so keep your eyes
pealed
on NME.com for when the second part is released.
Every so often NME makes videos like this listing different interesting facts about bands.
Here is one
from early April where they list Green Day's top ten songs.
Thanks to L! and Maya for sending this news.