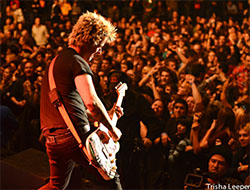 We have finally redesigned the
Green Day Tour section
, which you'll now find as a main tab at the top of GDA. The new section includes tour dates announced for 2012 so far, as well as shows from 2004-2011. That's 282 shows.
On the tour page click the "View Old Tour Dates" link at the bottom then select the year for the dates you want to list. For example,
here's all the dates
for 2009. When viewing a tour you can click on a show to view info about it such as the venue, date, photos (if we have any), setlist (if we have it), and soon you'll be able to add and read reviews from other fans.
We're still working on the 'Reviews' part, which will allow anyone who went to a show to submit their own review. I hope to have that functionality ready in the next 2-3 weeks so you guys can start adding in reviews.
If you have suggestions or run into any problems, let us know by commenting below, sending me an email, andres@greendayauthority.com, or you can use the
Contact Us
form.
Now, Green Day, announce more dates so we can add them in there :D