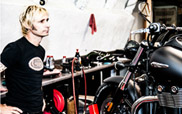 Mike Dirnt and pro-skater Corey Duffel both recently purchased new Triumph motorcycles, and photographer Sean Cope documented the two picking the bikes up.
Head on over to Sean's website to
check out
all the photos.
It seems the guys have been into motorcycles recently. This past February, Billie Joe got
a new one
for this birthday, and we've seen Tre riding one in a recent
studio video
.
Thanks to sucksasstobeyou for sending this news.