It's time for another riddle contest. This time Green Day has run away and their manager has entrusted GDA to round up the members. Help us find everyone before the show!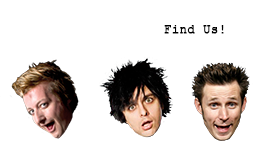 If you notice anything unusual along the way, you should probably write it down. You just might need it somewhere along your journey.
Each riddle will lead to another band member. If you find all the members before 11:59PM EST Monday, August 18th, you will be entered in a raffle where the winner will be able to choose between a $50 Electronic Gift Certificate for merch in the official
Green Day store
or a Demolicious clear vinyl. The first one to solve all the riddles will receive the "
Rage and Love
" wristbands from GDA and be entered in the raffle as well.
The winner will be announced Tuesday August 19th. Good luck and let's start looking for Green Day.
Riddle 1
You are handed a piece of paper from one of the GDA staff members and it reads:
"#captureandshare #GreenDayMomentstriumphstheworldsmoments #nofilter #GDA"

Edits Aug. 17:


A typo was fixed and the riddle should have said "#GreenDayMomentstriumphstheworldsmoments".


Hint #1 for Riddle 1: "If it's any consolation to those of you working on it, I got stumped pretty early on in the riddle myself. And it's my goddamn website." - Andres


Real Hint #1 for Riddle 1: #itsnotasfarasyouthink #fuckwords

Hint #2 for Riddle 7: Your browser doesn't support streaming audio.

This contest has now ended. Please check in tomorrow for the winners and answers!