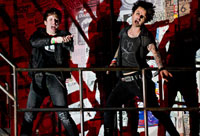 The New York Times
published an article
earlier this month praising Billie Joe's performance in the musical. We didn't post it up here, but I think it deserves some attention.
Here's a quote from the article:
"The most notable, and commendable, aspect of Mr. Armstrong's performance as the drug pusher St. Jimmy is how notable it is not, in a fundamental sense. Although ripples of excitement spread through the audience in the moments before his entrance, and the raucous cheers of fans rise when he comes slamming onto the stage, Mr. Armstrong is not merely strutting around spreading stardust.

Certainly he brings his own style and charisma to bear on the role, as any actor would. But at no point does Mr. Armstrong indulge in extraneous audience pandering or self-indulgent showboating. "American Idiot" is an ensemble show, an aching portrait of disaffected youth in search of itself. Mr. Armstrong, who wrote the songs (with Green Day) and wrote the book with the director, Michael Mayer, naturally has a stake in maintaining its integrity. He's not here to undermine it with focus-pulling grandstanding, and he doesn't. He plays the role, and plays it very well. "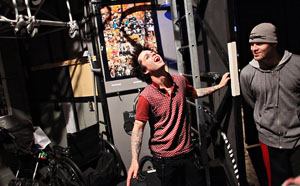 Check out the NY Times for
the full article
.
They also
posted 10 photos of Billie Joe
doing random things before the musical started. We've seen a handful of these photos published alongside
their Q&A with him
- but there were a few in there I hadn't spotted before. So, you should check them out if you want. Only if you want to though, because you know, I wouldn't force you to do anything you didn't want to. I guess I just don't know you well enough to have that safe-word in case things got weird.
Hope you guys have a splendid Monday.
Thanks to Fiona for the link to the photos.