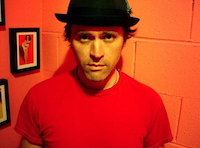 Today at 3pm Pacific (6pm EST) Green Day's engineer, videographer, photographer, and all-around cool dude, Chris Dugan, will be live chatting with Green Day fans at
IdiotClub.com
.
Update: Apparently this happened at 3pm EST, my apologies for getting the time zones wrong. Sorry to anyone who missed this because of our mistake.
You'll need to be a member to watch the interview and ask him questions.
Chris has been working with the band since American Idiot (maybe before then? I'm not sure. Maybe he'll tell us during the interview...) and usually travels with the band everywhere they go, taking pictures and extra video footage which ends up being used on
live releases
, and his photos are posted regularly
on GreenDay.com
. He also works as an engineer at Green Day's studio (formerly called Studio 880, currently known as
Jingletown Recording
).
I've renewed my Idiot Club to check out this live chat (plus
the new Awesome As Fuck shirt
is pretty ... awesome). We won't post the interview here, as that wouldn't be fair to the people who pay to be a part of the fan club - so if you want to check it out, be sure to be there just before 3pm Pacific. Here's hoping everything works and the Idiot Club will do more things like this in the future with other members of the band and crew.