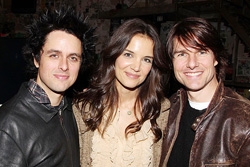 Yesterday's evening performance of the American Idiot Musical was attended by movie superstar Tom Cruise and his wife Katie Holmes.
After the show, they went backstage to chat with Billie Joe and the cast and to take some pictures. Katie Holmes is a Broadway veteran having starred in the show
All My Sons
in 2008. Tom Cruise is currently prepping for his role as rock star Stacee Jaxx in the upcoming film adaptation, Rock of Ages. I wonder if Billie Joe gave him advice on being a rock star?
You can read the article and view more pictures with Billie Joe and the cast at
Broadway.com
.