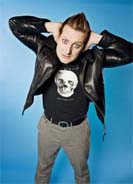 Earlier this week we posted about Tre being interviewed on San Francisco radio station 107.7 The Bone. If you missed the interview you can now listen to it online from the 107.7 The Bone podcast.
The interview was mostly about the upcoming
Music In Schools Today
(MuST) charity golf tournament on Monday, May 2, 2011 at Sequoyah Country Club in the Oakland Hills. Tre also talks about wearing a licorice thong, but you will need to listen to the whole interview to see what that is about...
You can stream the podcast online at LandtWorld.com by
clicking here
.
Thanks to roxsw88 for sending this news.